Easter Weekend - Report
Yes! It was an intense and vibesful easter weekend for many of us... After a good departure gig in our home at Gramaphone on Thursday, with Jstar mashing things up rightly alondside culture (see below)... we set off to Lille the next day... We made many friends on the ferry and took a couple of pics...
We arrived in Lille at the Djoloff reggae café, greeted by chief of booze, Ninja and chief of tings Medhi, aka Mexik1.
12prod
is in fact a massive crew, with something like 4 selectors and 3 MCs, am i right? Djoloff a nice little bar, with nuff JA decoration and pics of crew alongside Sugar Minott, King Jammy's and many top-class reggaemen visiting this smallish graffiti decorated basement. The 12crew warmed things up nicely mainly inna early dancehall style...
After a couple of 12 prod dubplates, including some ruff Horace Andy and Shinehead cuts, we came in on Ashley Beedle's "Stand Up Jamrock", Bob Marley on the Jamrock... Culture then came in on Don Carlos' Hog and Goat version. Nuff versions excursions from the man Brother Culture, in good form despite a crowd which didn't fill the place up as much as one would have liked... Also, perhaps the Lille Soundbwoys would have like a more jugglist style and more dubplates... But
who needs dubplates when you've got brother culture??
Sepia photos courtesy of:
www.reggae-blog.com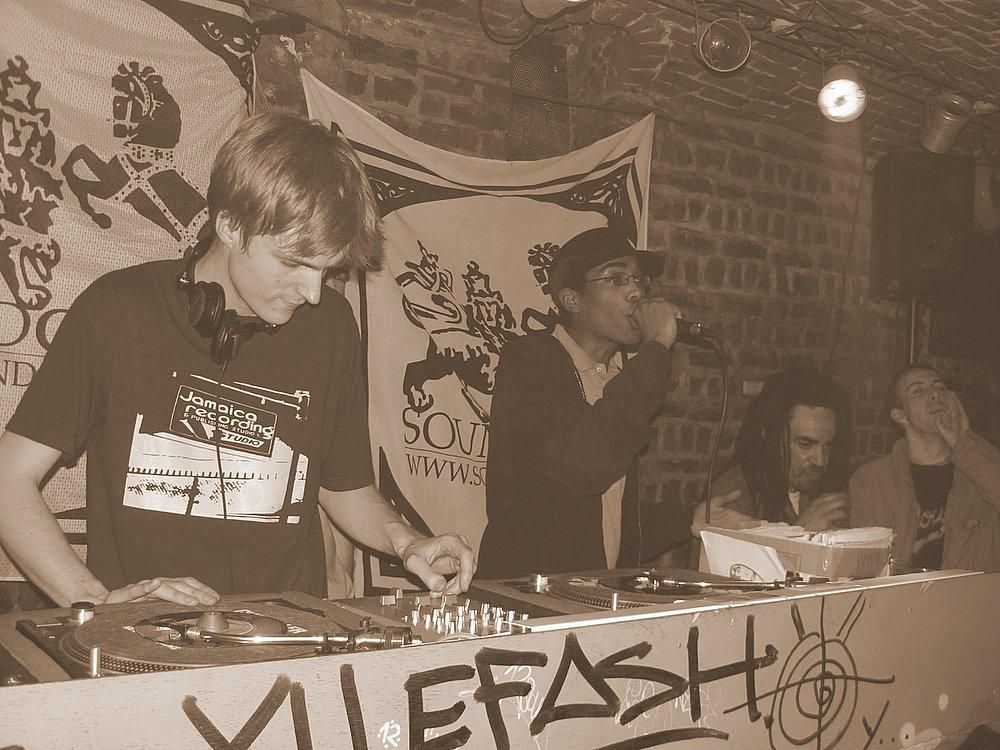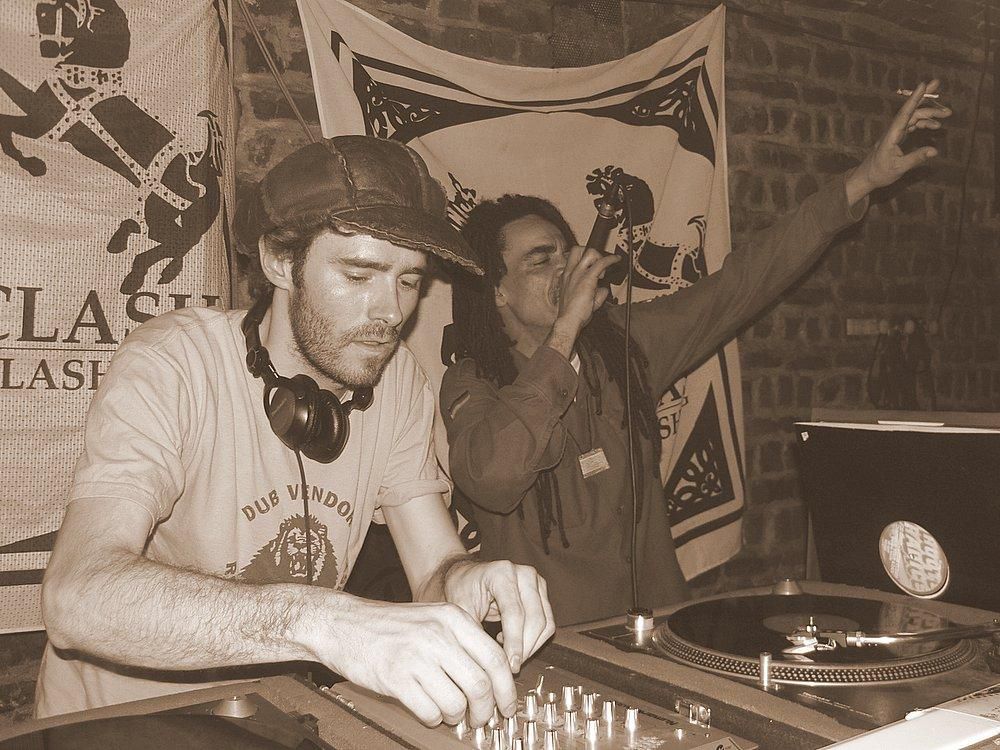 This photo thanks to Ras Bundy from
Reggae-vibes.fr
More Photos
HERE
The crowd hadn't heard Upstate and Jstar remixes before... So we played it the original london mashup style, which first surprised the massive but eventually conquered them... We kept the dance going to tunes i would think, 75% were played in Lille for the first time... Nuff good vibes til 3...
DOWNLOAD THE SOUNDTAPE!
After that, nice little wind-down alongside the 12 crew and the local rootsical authorities...
PARIS
After a long after party in Lille, we drove down to Paris and reached Nouveau Casino for a nice diner, with Parisian friends, Soul Jazz Crew and Etienne the promoter. Pete Reily and Scott Bethel represented the soul jazz alongside Oxman, who works at Dub Vendor and also helps compile Soul Jazz compilation like Studio One Lovers 2. The place opened at 12 and by 12.45, it was already full of dancers... Clash Hi-Fi mashed it in all style, including a 20min soul funk set with killer cuts from Freestylers and the Organ Donor version of the Lefties Soul Connection... Nuff mashups from the Flex stables and Upstate, and loads of response to Brother Culture, on stage for an hour on nu roots and oldies... Great sound and fully packed dancing session...
Soul Jazz came down with Oxman in top form, riding many classic studio one tunes, mixed in with recent hits and old school jungle... At 5 the place was still packed and on fire!!
Overall it was a wicked weekend... Big up promoters like Mehdi and Etienne who made is possible. Many thanks for those that travelled to reach the gig, and all the support and big ups... we will be back!!
One Love